DKNY, New York
Frequently DKNY had supermodel Alek Wek on the floor, who had been discovered in London in 1995 by Fiona Ellis from the Models One agency.
She became one of the hottest supermodels within a very short space of time.
Meanwhile she had been performing for Gucci, Fendi, Gaultier, Westwood, Chanel, Galliano, McQueen, Ralph Lauren and many other leading labels.
Here`s a great Alek Wek page and she is also a member of the US Committee for Refugees' Advisory Council.
DKNY Fashion videos
Intimates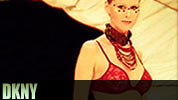 Fashion Show Video
DKNY Lingerie Show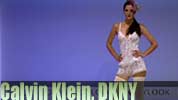 Fashion Show video