Stone Island
Carlo Rivetti interview
"I don`t care, what customer, Boutique or partner stores want, we have to show them new things, our feeling of freedom and the products that we like and not what the market wants."
That was said by Dr. Carlo Rivetti, who represents the 8th generation of an old Italian family, which has been committed to quality Fashion since the beginning of the 18nth century.
His label Stone Island is exclusive, innovative and still independent, what enables free thinking and to select directions without having to follow standard patterns and trends.
Stone Island videos
Carlo Rivetti had presented his legendary Stone Island brand at the CPD and in his video interview Carlo Rivetti explains some of the secrets for the success of his great house and the philosophy behind it.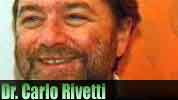 About Stone Island
video interview
About Internet business
video interview
"A romantic Synthetic" Fashion Exhibition
video interview
Interview Graffiti
Video
If I could change the World ...
Video
FIFA World Cup 2002 predictions
Video
Those videos were made long before youtube and were left in the original streaming quality, which was adjusted to match slow 56k modem connections.