Munthe plus Simonsen
In terms of quality fashion for all conscious women, who don`t want to scheme the schemes of outdated traditions. Women are wonderful and so let us be wonderful is definitely a feeling that their global clients can understand.
Spain, Italy, Japan and other places had been covered well in the past and the German CPD is now expected to drive another rush of orders into the lively and creative Danish house.
Munthe plus Simonsen Fashion Videos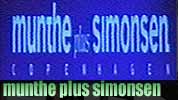 Danish Top Label Munthe plus Simonsen.

Within some video interview Karen Simonsen had explained their wonderful fashion.
Interview 2002
Video 1 | Video 2
Winter 2000
Video
Summer 2003
Video
Interview 2003
Video
Summer 2004
Video
If I could change the World
Video
FIFA World Cup 2002 tip
Video