Lilia Poustovit
Fashion from the Ukraine
Lilia Poustovit is one of the upcoming Ukrainian Fashion designer, who was about to become more trendy in Western Europe.
In 1996 she had received the Gold Button Grand Prix at the Vogue Festival.
In the same year she had also participated in Salon du Pret-a-Porter Feminine in Paris.
Out there her cute styling had earned her a Daniel Hechter Fashion House invitation to work as a designer of the pret-a-porter feminine collection.
Right now she is also working as the President of the Ukrainian Fashion Council and the Fashion Lab Mentor at Kiev Experiment.
Lilia Poustovit Fashion Show video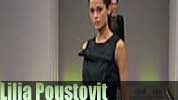 Designer Lilia Poustovit had come up with some exciting collections
Fashion Show video