Jorge Gomez
Fashion from Spain
One of Spain`s finest fashion designers is Jorge Gomez, who stands for colorful collections.
He was was born in Las Palmas on the Canary Islands and after several design studies in Madrid he had decided to launch his first store in Santa Cruz on the Island of Tenerife.
Meanwhile his label has stores in various cities and Jorge Gomez is also doing Prêt-à-Porter in Paris.
Jorge Gomez Videos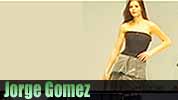 Die Show von Jorge Gomez had been one of the highlights at the CPD Trade Fair in Duesseldorf.
Fashion show Video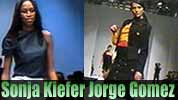 Here's a Jorge Gomez Fashion video with also a superb show from Sonja Kiefer.
Fashion show video