Reggae in Asia

Sri Lanka Reggae
It will always be impressive and amazing how far and how deep the music of Bob Marley has moved people from all over the world.
Bob Marley has never made it to Sri Lanka, but even in a small mountain town of the crazy Indian Ocean island Sri Lanka the sound of Bob Marley and the Wailers has captured so many hearts and minds.
Even a simple Rikshaw driver had felt inspired to promote the most famous Dread that the world has ever seen though in Sri Lanka long hair is only accepted for the ladies.
Guys with long hair are immediately classified as outcast by widest parts of society as much much as black skin comes second popular to white, brown or yellow.
In that sense, the words of Bob Marley have failed to reach, but along the beaches, his music is getting played forever.
In particular the crazy Sri Lankan beaches were getting flooded by the sound of Reggae Music though slowly but surely Rave, House and Techno are taking over since DJs have gained access to illegal downloads.
"Could You be loved" and "One Love" are still the most played tunes and not even names such as Gregory Isaacs, Dennis Brown or Black Uhuru have reached the Island except for some occasional "Red Wine" from UB40 and a few other Reggae tunes by Sean Paul.
Unfortunately there is nothing like a real Reggae scene in Sri Lanka and people can only look back at one concert from Shaggy a long time ago.
Also the radio stations do not play any Reggae with the exception of Reggaeton which ridmwise meets the most popular South Asian dance craze with the name "Punjabi" music that mainly comes out of the Indian Tamil Nado region.
The quality and punch is awesome as well as the production quality is as tough as on JA, UK or NYC.
Rent a Dread
Always famous on Jamaican beaches had been the "rent a Dread" business, which had attracted many Western women.
Also the Sri Lankan beaches are offering similar services and absolutely each type of western ladies will be well looked after for some small fees. Most people are friendly, but life can also become risky since the overall respect for westerners is not fully shared by all Sri Lankans. Also it is recommended to be aware of the "Heroin guys" and those who add dangerous substances to drinks.
That's why most local girls are not allowed to go to the beach in the daytime and certainly not at night to the daily parties as they usually belong to their parents or brothers which they have to serve before getting traded to their future husbands
Also one has to know, that the majority of Sri Lankan men insist on virginity when it comes to marriage for which the appropriate age begins at 16.
Meanwhile most young local Dreads on the the beach have lost any interest in their own girls while Western girls have become fully popular.
All that may reveal, why the original "One Love" message has not been fully understood by all of those, who pretend to associate themselves with Bob Marley and Reggae Music on the wonderful beaches in Sri Lanka.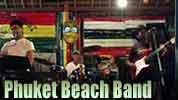 Watch two nice Reggae videos from the Phuket Beach Band
Video 1 | Video 2

Bob Marley Tuk Tuk
Bantu is an African Tribe and the three singers from the Cologne based Bantu Crew showed a n exciting performance at the Artheater.
From DJ to roots all kinds of styles had been tackled and the Video shows the great potential of this special crew and one highlight had been their African Brother tune, which featured real forceful singing.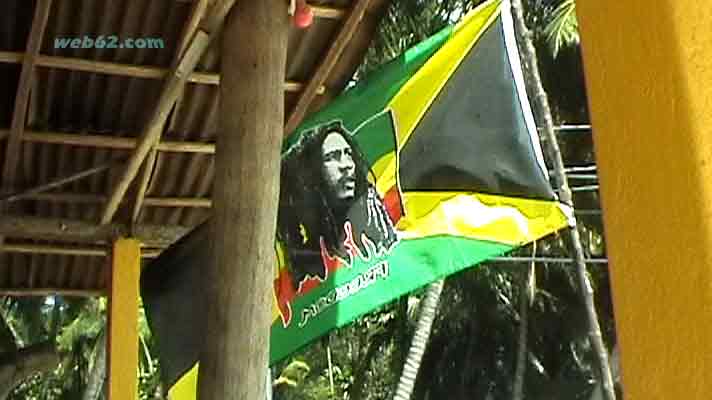 Bob Marley in Unawatuna
Many Sri Lankan and Thai bar owners have decorated their venues with Bob Marley images.
And actually that picture was taken a few hours before the Tsunami, which had brought horror and devastation to Sri Lanka and the lovely, crazy Unawatuna Bay in the South of the Island.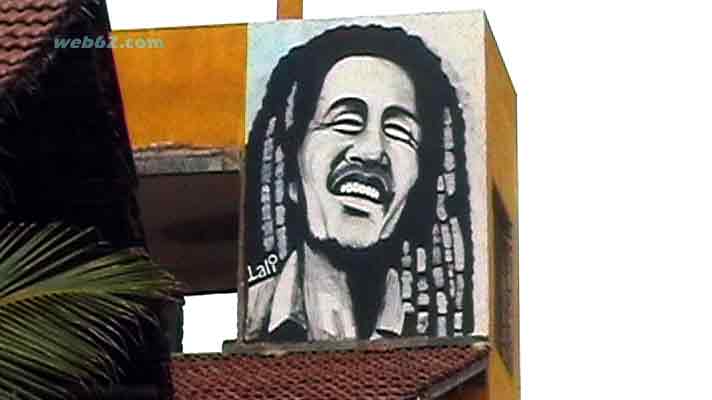 Reggae in Hikkaduwa
Also the nearby Hikkaduwa beach was hit badly by the Tsunami.
Shortly before some very friendly dudes had been operating this Reggae venue which had combined Surfing with beach parties at night.
In particular Japanese surfers had been deeply in love with that venue where the love for Bob`s music are big and where sometimes the only Sri Lankan Rasta and Reggae singer with the name Rohanta had given regular live concerts.