World Bowl photos, videos, stories
World Bowl 2007

Devils vs. Galaxy
Not even at home and in front of 48.000 fans the mighty Frankfurt Galaxy was able to become the first team to win two World Bowls in a row since the underdog team from Hamburg took the last available championship.
Photos by Christian Roth.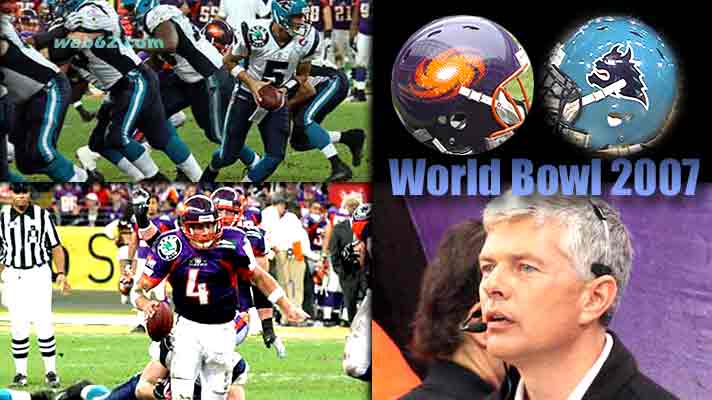 World Bowl 2007
Over many years GM Tilmann Engel has helped to establish the Galaxy as the No. 1 force in the NFL Europe and winning the last title at home would have been some kind of deserved.


Baldy & Bramlet
American Football legend Brian Baldinger was flown in by the NFL as and this time quarterback Casey Bramlet had come out as the big winner and game MVP.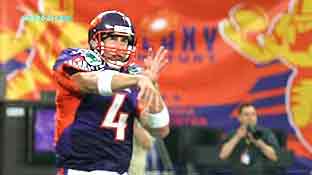 Frankfurt Galaxy quarterback J.T. O`Sullivan did well with 23 from 39 passes completed for 299 yards and 2 TDs. But 4 sacks and 1 interception had lowered his rating to 89,6. In the NFL he had been busy for 9 years and already in 2004 he had taken the Galaxy into a World Bowl.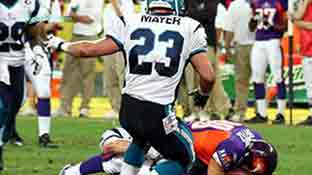 Shawn Mayer had come as a Patriots Super Bowl Champion to the Sea Devils for his second season and in the World Bowl he had shown 6 tackles.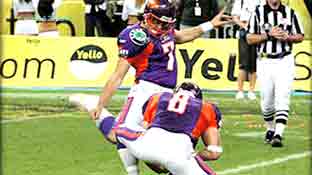 Carolina Panthers Kicker Rhys Lloyd had remained clean with 4 converted field goals. And certainly his 48 NFL games for the Carolina Panthers over 4 years must have been a fine experience.
DE Ben Ishola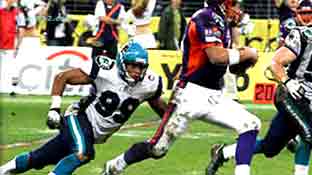 Impressive was Ben Ishola with 6 tackles, 2 sacks and a forced fumble, what got the Colts and Bengals teams interested. But in the end he was pleased to play at least over 3 seasons for the Toronto Argonauts.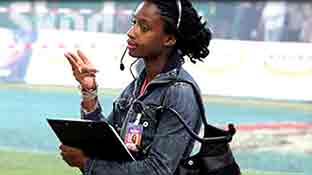 Over many years Galaxy Cheerleaders Coach Kimberly An Cole had done so much for Cheerleading and the last Miss World Bowl crown had to go her.
Video interview and photos