World Bowl 2005

Admirals vs. Thunder
In particular the Houston Texans must have had a close eye on the game while observing some of their former players and hopefuls on the field.
DT Charles Hill had been on 16 Houston Texans games and Berlin Thunder quarterback Dave Ragone was even allocated by them while he had been on their roster from 2003 until 2005 playing in two games.
World Bowl 2005 video
NFL World Bowl Highlights and interviews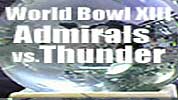 Amsterdam Admirals vs. Berlin Thunder
Game video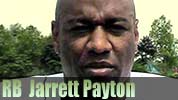 Jarrett Payton interview
Video


QB Dave Ragone
With a qb rating of 103 Berlin Thunder`s Dave Ragone had been widely convincing. 30 from his 48 passes had arrived for 3 TDs and 328 yards. But 7 sacks revealed, that his running skills were not the best and that also his guards were not always operating at peak level.


Kurt Kittner and Jarrett Payton
Kurt Kittner and Jarrett Payton were some more of all those brilliant offensive forces that the Amsterdam Admirals were having on the field.
WR John Booth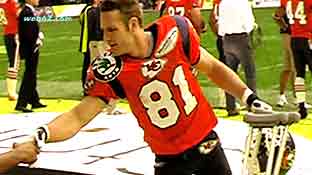 Receiver John Booth had been under close observation by former Kansas City Chiefs GM Carl D. Peterson, who had come to observe several potential candidates for their 2005 NFL season. And he saw a fine performance by John Booth with 4 receptions for 130 yards.
DT Charles Hill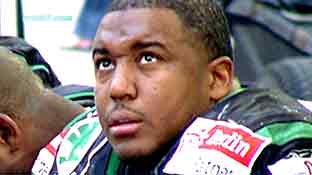 Defensive tackle Charles Hill was allocated by the Carolina Panthers. Before he had been with the Chicago Bears in 2003 and with the Houston Texans in 2002, where he had been on 16 NFL games scoring 1 tackle and one assist.
Born on November 1, 1980 in Palmer Park, MD
College: Maryland
Height: 6-2
Weight: 293
CB Jermaine Mays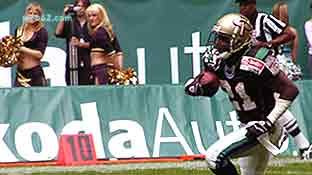 Jermayne Mays from the Minnesota Vikings had scored 141 yards with his 6 kickoff returns.
Born on July 13 in 1979
College: Minnesota
Height: 6-11
Weight: 200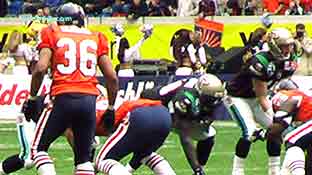 Safety Norman LeJeune had come from the Miami Dolphins, where he had been for two seasons and 7 games scoring two tackles. In the World Bowl Norman LeJeune had shown 7 tackles.
Norman LeJeune photos and info
Admirals defense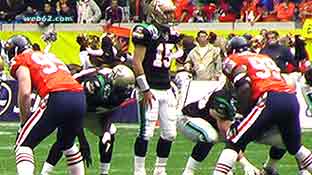 Clint Mitchell from the Denver Broncos and Derrius Monroe from the New Orleans Saints had been some of various unpleasant obstacles for qb Dave Ragone. Derrius Monroe had disturbed with 1 tackle and 1 forced fumble while Clint Mitchell had shown 2 tackles and 1 assist.
DE Isaac Hilton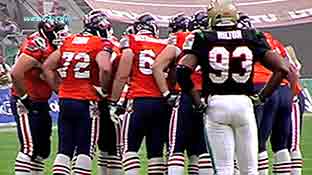 Carolina Panthers DE Isaac Hilton had impressed with 3 tackles and 1 assist.
In 2009 he was facing drug charges after 70 bags of marijuana were found in his possession. But already at the 2004 NFL Scouting Combine Isaac Hilton became famous when he was urinating on himself while being checked by scouts and coaches.