Amsterdam

The Amsterdam ArenA
Amsterdam combines finest tradition with the chances of tomorrow.
And stepping from ancient times into today leads right away into the sensational Amsterdam ArenA, where the legendary soccer club Ajax Amsterdam has been setting world standards at many levels.
The AmsterdamArena is in fact an outstanding venue, where some of the best players in the world have been celebrating the speedy and robust Oranje football style since ages, what has taken them already into 3 World Cup Finals.
Johan Cruyff, Johan Neeskens, Ruud Gullit, Marco van Basten, Edgar Davids, Ruud van Nistelrooy, Robin van Persie, Arjen Robben and many many more, who have all made it big time with the rich Italian, Spanish and British football teams.
2001 saw also the great NFL World Bowl in there, which had been broadcasted live to the US as well as the great Amsterdam Admirals.
Amsterdam videos
Old City Clip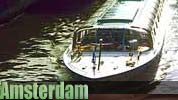 That was Amsterdam in 2001
Video
Coolio in Amsterdam