Sport News, photos and stories
Charlie Webster

in Phuket
The British TV presenter and sports model is certainly an impressive lady to meet as she does it all from marathon to boxing and who knows what many other disciplines she is highly capable of.
Running a marathon in hot steamy Southeast Asia is obviously a tough challenge that she had mastered so very well though long distance running had never been her real passion.
Have a listen to her interesting opinions on the War in Iraq and on other aspects of daily life.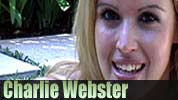 Interview
Video
If i could change the world
Video
The War in Iraq
Video
At the Phuket Marathon
Video