If I could change the World
BBC DJ legend David Rodigan had called it a "magic want" and this line of videos is featuring the ideas and wishes of people in Barbados, New York, Ghana, Asia, NFL activists, fashion gurus and manyother celebrities.
If i could change the world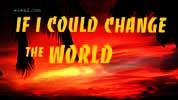 Video 08 with wishes from:
Shaggy, Phil Tufnell, Mark Newham and folks from New York and Barbados.

Video 07 with wishes from:
David Rodigan, Branford Marsalis and others.

Video 06 with wishes from:
Francis Rossi, Aja Addy and others.

Video 05 with wishes from:
Buccaneers Cheerleaders, Singer Jessica, Doug Graber and fashion designer Mari Ot.
Video 04 with wishes from:
Aja Addy, Karen Simonsen, Manfred Kronen, Jason Brookins and Alex Leibkind.
Video 03 with wishes from:
Jaguars Cheerleaders the Roar, Dr. Carlo Rivetti and several NFL starters.
Video 02 with wishes from:
Media Philosoper Professor Dr. Hubertus von Amelunxen.
Video 01 with wishes from:
Ralf Moeller, NFL International Vice President Doug Quinn, Karen Simonsen, Tod Husak, Super Bowl Champ Tom Nuetten and two Dallas Cowboys.