Mercedes 600

and the CL Coupe
Only very few brands in the world have such a well known symbol with their products.
Many Politicians, movie stars, Musicians and business people have been chauffeured in a Mercedes 600, a model, that has become history.
Those where the days, some may say, when greatest design was expressing glam and glory of those, who had made it somewhere along the line.
Understatement wasn`t that much on the agenda, which had resulted in one of the finest cars that was built.
Now the flagship of the German Car Industry is bound to be taken to the next level with a new 12 Cylinder model on it`s way.
Mercedes Videos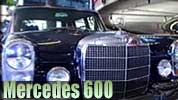 Introduced by Matthias Matthies from the Daimler Benz AG.
Mercedes 600 & CL
Video
CL Coupe
Video