Vitali Klitschko
Vitali and Wladimir Klitschko are two true Boxing giants from the Ukraina and in the year 2000 it had been a great pleasure meeting them outside the ring.
Two friendly and well rounded chaps that are highly committed to sports and both erady to take over the entire heavy weight scene for more than a decade.
And in 2003 on June 21 Vitali Klitschko was clearly leading against Lennox Lewis, until the referee decided to stop the fight for injury reasons and to declare Lewis as the winner in front of an angry audience, which had included George Foreman, who had also seen the Ukrainian as the winner.
But meanwhile Dr. Vitali Klitschko is a retired long time reigning Heavy Weight World Boxing Champion while Lennox Lewis had never made it back into the ring.
Since then many have failed to defeat the smart Ukrainian including David Haye and Russian hopeful Walujew.
A bit later also Wladimir Klitschko has gained the crown, so that the family is perhaps the most successful in boxing of all times.
And even iin terms of enertainment and language abilities their performance level is more than impressive.
Being asked, whether they would ever accept a fight against each other, they simply replied. "No, that would kill Mama." Since that answer, their "Mama" has become cult, compared to the classic tune, "Mama say".
Klitschko video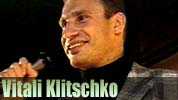 Vitali Klitschko on Rhein Fire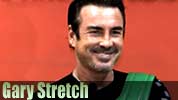 And that's what Lennox Lewis friend Gary Stretch was saying about the fight and David Haye.
Video