Sigiriya Rock
Fairly big is indeed the Sigiriya Rock on which a Royal palace had been built some long time ago.
Those who might feel annoyed about that extreme pricing will certainly enjoy visiting a monk school and some small temple inside the park right next to the Rock.
The heat, smell and music are very intense but only very few visitors find their way to that truly special and relaxing venue.
Kandy videos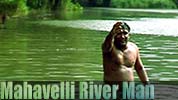 See the Mahavelli River Man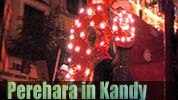 The Kandy Perehara is taking place in every August.
Prepare your Sri Lanka holidays at SriLanka1.net