Rhein Fire Team 2001
Rhein Fire 2001 brachte ein riesiges Derby gegen Galaxy vor 51.000 Fans mit einem knappen Sieg, der durch eine starke Interceptions von Corey Harris und Deke Cooper erspielt wurde.
Michael Lewis wurde zum Star in der NFL Saison 2002 und Woche 1 brachte einen feinen Start für Head Coach Pete Kuharchek gegen die Admirals.
Beeindruckend waren auch Kelly Gregg und Jason Brookins, die beide bei den Baltimore Ravens landeten.
Adams | Amaya | Arellanes | Blick | Brookins | Burgsmüller | Carmazzi | Carter | Cooper | Doghmi | Duncan | Early | Gardner | Greer | Gregg | Hardaway | Harris | Huggins | Lano | LeBlanc | Lewis | Mallard | Ojo | Pearson | Roscoe | Sands | Sasano | Stambaugh | Smith J. | Tokimoto | Tuthill | Williams | Word | Younger | Zimmerman
Rhein Fire 2001 Videos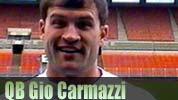 Gio Carmazzi was kam von den 49ers.
Video interview, Fotos und Story
Season 2001
Video
2001 Season Opening Party
Video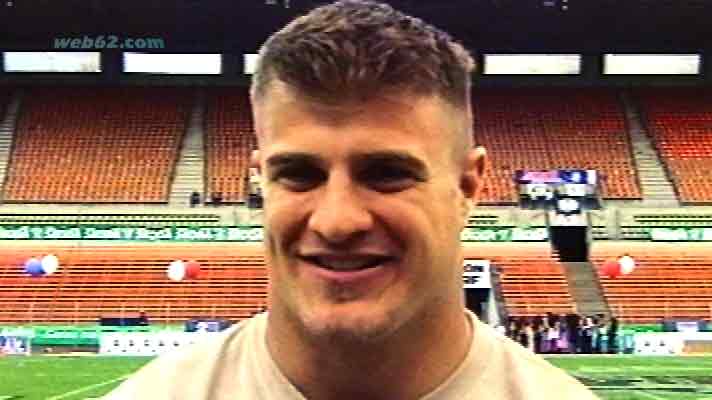 LB Scott Zimmerman
Unmengen von Sacks hatten "Zim" zum Spieler der Sasion 2001 gemacht und im herbst 2002 hatte Scott Zimmerman die second string FB Position bei den Dallas Cowboys erobert, doch am Ende langte es leider nicht.
Interview
Video
"If I could change the World"
Video
Geboren am 29. April in 1977
College: North Colorado
Height: 6-0
Weight: 235
Rhein Fire Players 2001

Naoki Sasano / Akihito Amaya
Der Japanische wide receiver war ein wichtiger Mann in Düsseldorf und er kam zusammen mit Naoki Sasano, Akihito Amaya und Linebacker Masaki Tokimoto.
WR Dwight Carter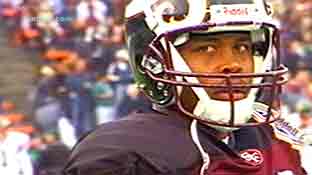 Dwight Carter kam von den San Francisco 49ers, wo er keinen Job fand obwohl er bei Fire mit einem 27 yards Lauf gegen die Admirals in Woche 1 und 2 receptions für 19 yards gegen die Dragons in Woche 3 für sich geworben hatte.
Geboren am 19. September in 1977
Height: 5-9
Weight: 185

DT Daniel Greer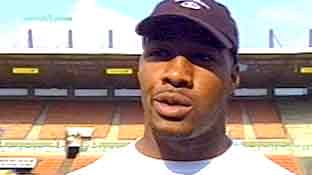 Defensive tackle Daniel Greer kam von den 49ers.
Interview
Video
Born on January 5 in 1976
College: University of Arizona
Height: 6-2
Weight: 285
James Roscoe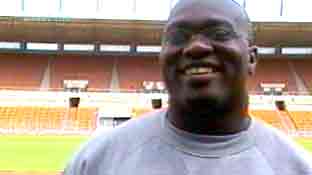 James Roscoe kam aus Florida und er liebt das körperliche Spiel, was er im Video Interview verriet
Interview
Video
Geboren am 26. März in 1977
College: Clark Atlanta
Height: 6-3
Weight: 285
Masaki Tokimoto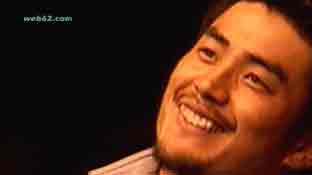 Spieler aus Japan waren seit Tamon Nakamura in Düsseldorf beliebt und die 5.000 Mitglieder große Japanische Community war begeistert von Rhein Fire.
Geboren am 5. December in 1974
College: Kinki University
Height: 5-10
Weight: 210
Mike Sands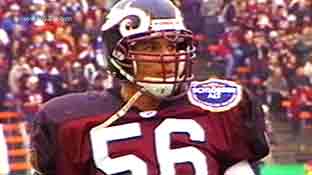 Harvard war eine wichtige Station von Mike Sands, der von den Steelers kam.
Geboren am 16. Dezember in 1977
College: Harvard
Height: 6-4
Weight: 235
Eddie Hardaway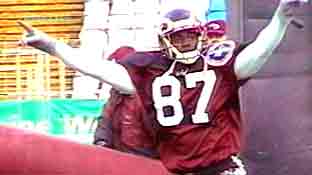 Eddie Hardaway gelang der erste Touchdown der Saison und seine 2 Fänge für 33 yards gegen die Admirals in Woche 1 waren ein feiner Start.
Geboren am 10. July in 1977
College: C.W. Post
Height: 6-1
Weight: 195
Julian Duncan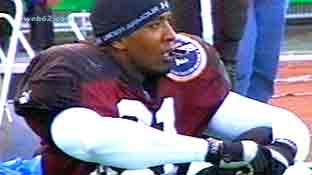 Julian Duncan war der Star in Woche 1 gegen die Admirals mit 3 tackles, 1 sack und 9 yards.
Interview
Video
Geboren am 31. November in 1976
College: Pittsburgh
Height: 6-2
Weight: 224
John Blick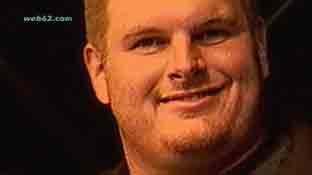 Kansas City Chiefs' John Blick bekam Einladungen von den Buccaneers und den Jaguars, aber am Ende sprang leider kein Job für ihn heraus.
Geboren am 2. Februar in 1978 in Pittsburgh, Pennsylvania
College: Penn State
Height: 6-6
Weight: 314