Status Quo

Videos, stories
Status Quo hatte zahlreiche Hits wie Pictures of Matchstickmen, Paper Plane, Ice in the Sun, Rocking all over the world uvm. mit denen sie sich in der Geschichte von Rock und Pop verewigte.
Auch heute noch sind Status Quo ständig auf Tournee und es war wirklich interessant, mit Band Leader Francis Rossi ein längeres Video Interview zu führen, welches bei web62.com Internet TV exklusiv und in voller Länge zusammen mit kurzen Auschnitten von einem NFL Konzert zu sehen ist.
Für die Party People der NFL Europe produzierte Status Quo in Los Angeles mit dem Rapper D-MACK eine Version von "All stand up", einem Song aus dem aktuellen Heavy Traffic Album.
Francis Rossi gab nebenbei ein längeres Video Interview mit speziellem Charakter mit dem hier auch Ausschnitte von ihrem Konzert beim World Bowl zu sehen sind.
"It`s a great vibe" sagte Francis bevor er mit 50.000 American Football Fans "Rocking all over the World" sang.
Ein Helicopter, der die gefragte Band zum nächsten Konzert flog war dann "business as usual" für die populären Rockstars.
Status Quo Videos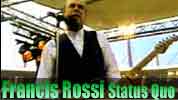 Status Quo Videos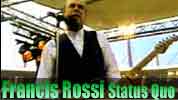 Francis Rossi interview
Video 1
Funky Status Quo
Video

Status Quo Links