Rhein Fire Team 2000
Und wieder gewann Rhein Fire den World Bowl bei Frankfurt Galaxy unter head coach Galen Hall und dieses Mal mit Titan`s Ex-coach Bart Andrus der half, aus einem Running Back Team mit Clark + Bynum eine Receiver Macht zu formen, die vom ehemaligen Vikings Receiver Mike Jones trainiert wurde, aus der Jeff Ogden einen Job bei den Miami Dolphins landen konnte.
Dennoch, es war RB Pepe Pearson der mit seinem feinen TD den World Bowl entscheiden konnte. Aber auch Nick Ferguson war fantastsich und für ihn begann eine große Karriere bei den Denver Broncos.
Hier die Video Interviews mit dem letzten World Bowl Sieger Team von Rhein Fire: Ken Ogle, Marques Douglas, Kevin Drake, Danny Wuerffel, den vier Dallas Cowboys Chris Brymer, Chris Akins, Jeff Ogden, Ryan Neufeld und den beiden Super Bowl winning safeties Anthony Mitchell und Chris Akins.
Adams | Brown | Akins | Baisley | Burgsmüller | Brymer | Carter | Clark | Collins | Doghmi | Douglas | Drake | Early | Fisher | Ferguson | Fitzpatrick | Ham | Hart | Heimburger | Hickl | Johnson | Kight | Lano | Lyck | Lytle | Mallard | Mitchell | Neufeld | Ogden | Ogle | Ojo | Pearce | Pearson | Powell | Renfro | Williams | Wuerffel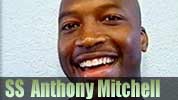 Anthony Mitchell hatte die Phase seines Lebens. Erst gewann er den World Bowl und dann den Super Bowl mit Baltimore Ravens.
Video Interview, Fotos und Story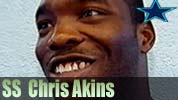 Chris Akins konnte ebenfalls einen Super Bowl zu seinem World Bowl hinzufügen als er für die New England Patriots spielte.
Video Interview, Fotos und Story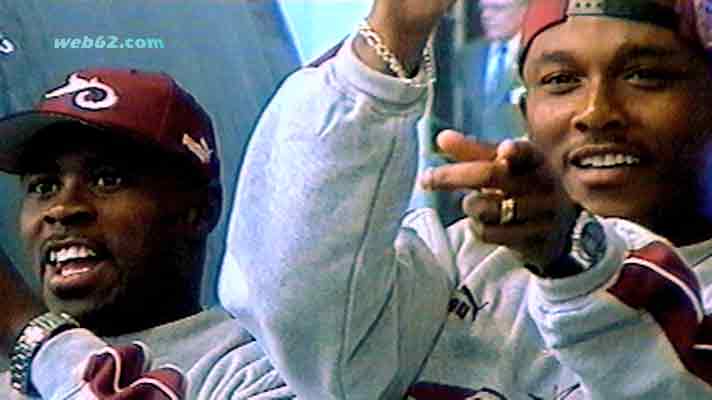 RB Pepe Pearson
Running back Pepe Pearson war der World Bowl Gewinner mit seinem Touchdown gegen die Scottish Claymores.
Damit stand Pepe Pearson in der langen Rhein Fire RB Tradition, welche Derrick Clark, and Kenny Bynum, Autry Denson, Jamal Robertson, Tony Tailor, Joe Smith und den großen Fred Jackson beinhaltet.
The TD
Video
Rhein Fire Spieler 2000
RB Ontiwaun Carter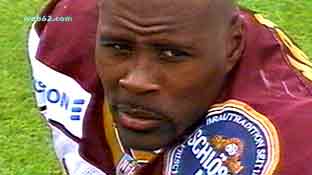 Ontiwaun Carter spielte von 1996 bis zur World Bowl Saison 2000 für das Rhein Fire Team.
Geboren am 16. November in 1970
College: Notre Dame
Height: 5-9
Weight: 185
G Pete Swanson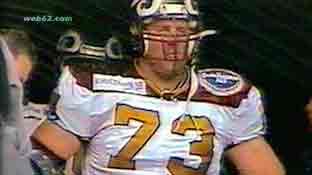 Guard Pete Swanson spielte für die Kansas City Chiefs in 1998 bevor er zu Fire kam um den World Bowl zu gewinnen, was ihm einen Job bei St. Louis Rams 2000 einbrachte, für die er in 3 Spielen antrat.
Geboren am 26. März 1974 in Hollister, Kalifornien
College: Stanford
Height: 6-5
Weight: 307
CB Derrick Gardner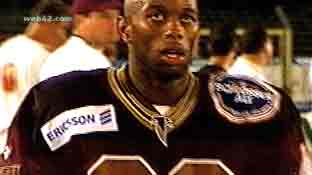 Cornerback Derrick Gardner kam von den Atlanta Falcons für die er in 7 Spielen während der 1999 NFL Saison antrat bevor er nach Europa kam.
Geboren am 10. März, 1977 in Oakland, CA
College: California
Height: 6-0
Weight: 185
TE Lawrence Hart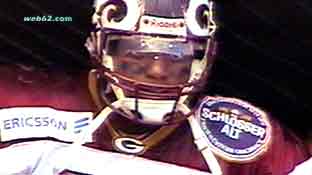 Cardinals' Lawrence Hart ging nach dem World Bowl Triumph zusammen mit head coach Galen Hall in die XFL.
Geboren am 19. September 1976 in Shreveport, LA
College: Southern University
Height: 6-4
Weight: 254

G Ben Nichols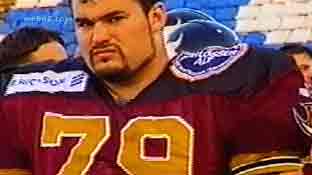 Guard Ben Nichols konnte leider keinen Job in der NFL finden denn auch seine Chancen bei den Oakland Raiders währten nicht lange.
Geboren am 28. Juni in 1971
Height: 6-5
Weight: 310
Dan Collins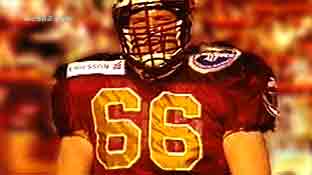 Dallas Cowboys' Dan Collins bei war Rhein Fire bevor er dort in 2002 einen Job fand.
Nach seinem World Bowl Sieg in 2000 folgte Dan Collins erst einmal Galen Hall zu Orlando Rage.
Geboren am 27. Juli, 1976 in Raynham, MA
College: Boston College
Height: 6-4
Weight: 300

LB Vincent Bradford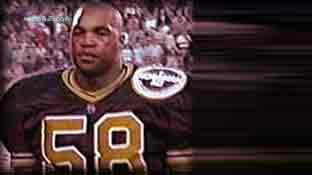 Linebacker Vince Bradford hatte bereits eine Saison bei den 49ers gespielt bevor er spät zu Rhein Fire kam um den suspendierten Scott Whittacker zu ersetzen.
Geboren am 22. Januar in 1973
College: Arkansas
Height: 6-2
Weight: 231
DT Ken Anderson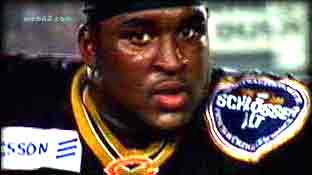 Tackle Ken Anderson kam von den Chicago Bears und nach der Sasion ging er zu Orlando Rage zusammen mit Head coach Galen Hall.
Geboren am 23. September in 1973
College: Georgia Tech
Height: 6-3
Weight: 310
G Ben Adams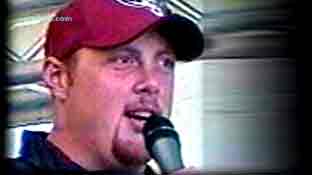 Guard Ben Adams war ein weiterer harter Arbeiter im Team, der leider trotz seiner 3 Jahre bei Rhein Fire keinen Job in der NFL landen konnte.
Geboren am 27. Dezember in 1975
College: Texas
Height: 6-2
Weight: 246
T Ernie Brown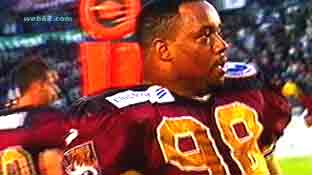 Tackle Ernie Brown war von den Pittsburgh Steelers zu Fire geschickt worden, was ihm leider auch nicht half dort an Bord zu bleiben. Zuvor hatte er immerhin 3 Spiele in 2 Jahren für die Steelers absolviert.
Geboren am 14. März, 1971 in Pittsburgh, Pennsylvania
College: Syracuse
Height: 6-3
Weight: 295