QB Tee Martin
Eine feine Sasion hatte Steelers quarterback Tee Martin
Rhein Fire Spieler 2002

WR Jimmy Robinson
Jimmy Robinson war der beste Receiver der Saisson mit 33 Fängen für 358 yards und 3 Touchdowns.
Geboren am 22. November in 1976
College: Kentucky
DB Clinton Hart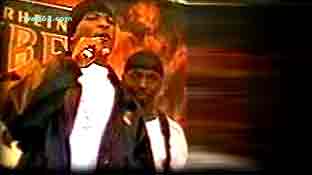 Clinton Hart hatte eine feine NFL Karriere nach seinem Fire trip als ihn die Eagles für 2 Jahre engagierten. Von dort ging es weiter zu den San Diego Chargers für 6 Jahre und zu den St. Louis Rams für eine Saison bevor er bei den Omaha Nighthawks nach 333 Tackles, 10 Interceptions, 2 Sacks und 2 forced fumbles in Rente ging.
Geboren am 20 Juli 1977 in Dade City, Florida
College: Central Florida CC
Height: 6-0
Weight: 208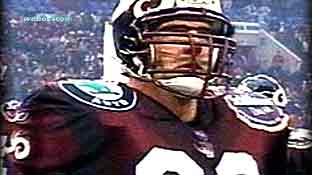 Patrick Venzke hatte Zeit bei den Jacksonville Jaguars verbracht und er freute sich deren Cheerleaders "The Roar" bei Rhein Fire zu treffen, neben denen er bei Super Bowl Party Entertainer Talente offenbarte.
Interview
Video
Mehr von Patrick Venzke
WR Scott Cloman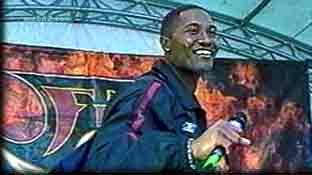 Scott Cloman war der zwetbeste receiver der Saison mit 29 Fängeb für 374 yards und 1 Touchdown, den er in W1 gegen die Admirals neben 7 Fängen für 125 yards erzielen konnte.
Interview
Video
Born on November 6, 1975
College: Southern
Height: 6-2
Weight: 201
DB Adrian Sadler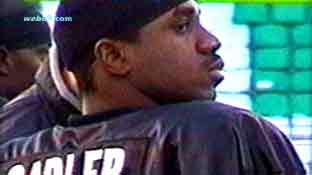 Adrian Sadler gelang in Woche 2 eine wichtige Interception gegen die Scottish Claymores und QB Scott Dreisbach.
Interview
Video
Geboren am 10. März in 1978
College: Rice
Height: 5-9
Weight: 184
WR Onomo Ojo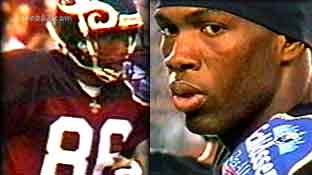 Receiver Onomo Ojo hatte die NFL 2001 Saison bei den New Orleans Saints verbracht, doch nach seiner NFL Europe Zeit konnte er dort leider keinen Job landen.
Geboren am 3. Juni 1977 in San Francisco, CA
College: California-Davis
Height: 6-4
Weight: 205
WR Corey Alston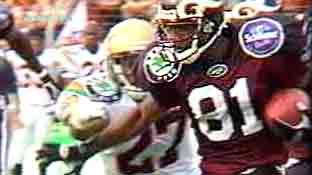 Wide receiver Corey Alston kam von den New York Jets, wo er für eine NFL Saison gespielt hat.
Geboren am 26. August in 1979
College: Western Michigan
Height: 6-1
Weight: 213
S Greg Brown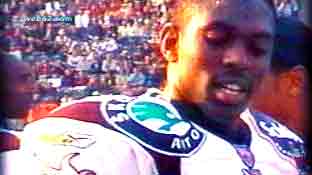 Safety Greg Brown hat für zwei Jahre in 2002 und in 2003 für Rhein Fire gespielt, wo er seine Erfahrungen von den Denver Broncos einbringen konnte.
Geboren am 30. Juli in 1979
College: Texas
Height: 5-2
Weight: 2130
P Dirk Johnson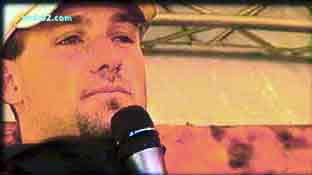 Punter Dirk Johnson war bei Rhein Fire 2000 and er spielte für viele Jahre in der NFL. Zum Beispiel bei den Eagles, den Arizona Cardinals, den Chicago Bears und den Tampa Bay Buccaneers für stolze 15,914 punt yards and 372 punts.
K Jason Witczak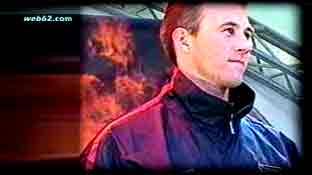 Kicker Jason Witczak kam von den Tennessee Titans. Aber später konnte es keinen Job in der NFL finden und er spielte bei mehreren Teams in der Arena League.
Geboren am 24. Mai in 1978
College: Southeast Missouri State
Height: 6-1
Weight: 195