Karon Beach Hotels
Not far from Patong the wonderful Karon Bay offers a thrillingly soft powder sand over a length of 3 kilometers with a perfect infrastructure and architecture that makes it a great place for families and holidaymakers, who seek a little distance from the more busy Patong or Kata Beaches.
That's why staying at a nice resort in Karon Beach is likely to be remembered as a fantastic holiday with much swimming and many nice tours around Phuket Island.
Extremely wonderful to enjoy are the sunsets at Karon Bay around June and July.
Find more photos and info about Thailand at our Thailand1.net
Videos from Phuket
Thailand dangerous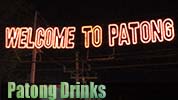 Spiked drinks have become a threat in Patong and many publications are spreading warnings. See what these drugs have done to a young family father.
Video
Phuket had celebrated the New Year with a huge firework on Patong Beach.
Video
A beautiful Sunset over Patong Beach
Video
Thailand Phuket Beach Band Reggae Live Videos
See Video 1 and Video 2