Bangla Road

Girls and massage
The world famous Bangla Road is the heart of Patong what is pretty much a beach style "Sin City" similar to Miami or any other popular tourist trap in the world.
"Happy ending" is what fun seekers are looking for when they come to one of those many massage parlors or girlie bars, where they can grab a pretty girl for $30 upwards per night, enjoy a beer for $2.00 or have a nice meal for the same price.
In fact, that type of an invitation seems to have brought millions of male tourists and loads of investors to Phuket, where now up to an annual 17 million seem to be having a ball.
Meanwhile less Westerners and a lot more Chinese and Russian visitors are starting to enjoy Thailand and Bangla Road, which has always been a main attraction in Patong.
Find more photos and info from Thailand at our Thailand1.net
Videos from Patong
Thailand dangerous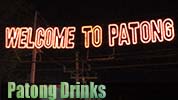 Spiked drinks have become a threat in Patong and many publications are spreading warnings. See what these drugs have done to a young family father.
Video
Phuket had celebrated the New Year with a huge firework on Patong Beach.
Video
A beautiful Sunset over Patong Beach
Video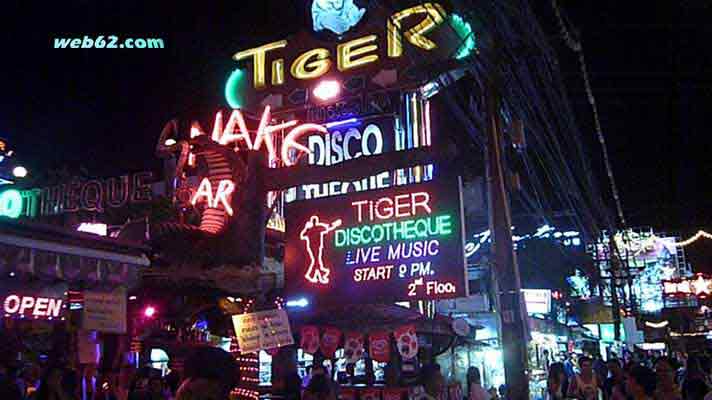 Bangla road tour
The story of Bangla road can also be a sad one though party, flirting, buying and selling loads of smiles may rule the night.
But illusions and stimulants are cheap and every night starts always young.
Definitely not shy are the infamous Bangla Road girls who get hired for around 1.500 THB per night.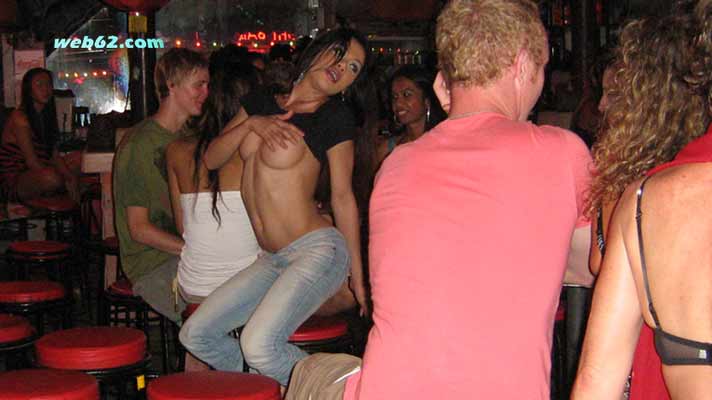 Bangla Road Ladyboy
Bangla Road sees all kinds of tourists dropping tons of money every night to make bar owners, police and working girls earn much more than the average Thai.
And it might be, that some bar owners hire extroverted Ladyboys to further saturate the picturesque image of Bangla Road.