Bangla Road

Girls and massage
The world famous Bangla Road is the heart of Patong what is pretty much a beach style "Sin City" similar to Miami or any other popular tourist trap in the world.
"Happy ending" is what fun seekers are looking for when they come to one of those many massage parlors or girlie bars, where they can grab a pretty girl for $30 upwards per night, enjoy a beer for $2.00 or have a nice meal for the same price.
In fact, that type of an invitation seems to have brought millions of male tourists and loads of investors to Phuket, where now up to an annual 17 million seem to be having a ball.
Meanwhile less Westerners and a lot more Chinese and Russian visitors are starting to enjoy Thailand and Bangla Road, which has always been a main attraction in Patong.
Find more photos and info from Thailand at our Thailand1.net
Videos from Patong
Thailand dangerous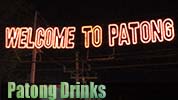 Spiked drinks have become a threat in Patong and many publications are spreading warnings. See what these drugs have done to a young family father.
Video
Phuket had celebrated the New Year with a huge firework on Patong Beach.
Video
A beautiful Sunset over Patong Beach
Video