Graffiti, photos, videos, stories
Graffiti in Germany
Germany has a huge Graffiti scene and the styles are completely different.
Here are some humorous and colorful examples.
Graffiti videos
VIP comments on Graffiti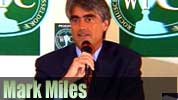 Video comments on Graffiti by Branford Marsalis, Reggae DJ David Rodigan, ATP CEO Mark Miles a.o. folks.
Graffiti Walls and comments from Barbados, New York, Right said Fred, Gbenga Olaniyi, Harald Gloeckler and Doug Quinn from the NFL.