John Galliano
@ the House of Dior
Christian Dior wurde in Granville, Frankreich im Jahr 1987 geboren.
Sein berühmtes Modehaus gründete er in 1947 und in nur 10 Jahren gelang es ihm, ein Stück Ewigkeit zu kreieren.
Es half, dass er weltweit einer der ersten Mode Designer war, die ihren Namen auch für andere Produkte zur Vermarktung lizensieren konnten.
Derweilen gehört The House of Dior zum weltweiten No.1 Hersteller von Luxusgütern, der Louis-Vuitton-Moët-Hennessy Group.
Dior Videos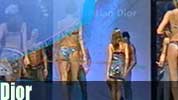 Dior Lingerie Modenschau auf der CPD.