John Galliano
@ the House of Dior
Jede John Galliano Modenschau wurde zu einem massiven Ereignis in der Modewelt und das House of Dior war auf einmal wieder ein Monster Name, dem sich niemand mehr entziehen konnte.
Wie unangenehm nun, dass John Galliano auf einmal mit wenig erfreulichen Ansprachen in einem Pariser Lokal ins Gerede geriet, welche ein plötzliches Ende dieser genialen Epoche des Le Maison Dior eingeleitet haben.
Ohne John Galliano ist Dior wieder nur eines von vielen Häusern und man wird dort die Entlassung von John Galliano wohl am meisten bedauert haben, denn seine Arbeit und sein Charisma waren absolut einzigartig und sie konnten von Raf Simons nur bedingt erreicht werden.
Dior videos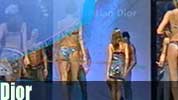 The House of Dior had presented Lingerie at the CPD.