Rednex

Live in Düsseldorf
Mit "Spirit of the Hawk" hatten die Rednex einen Riesenhit, der u.a. auch von "Big Brother" gefördert wurde.
Leider gerieten die Rednex dadurch ein wenig in die Nähe der musikalisch etwas sparsamer ausgestattenten Big Brother Künstler, was jedoch ein völliger Trugschluss ist.
Dies wird in dem in wenigen Stunden hier zu sehenden very very special web62.com Real Video zu erkennen sein, in dem die Rednex ihr grossartiges Comedy Repertoire neben ihrer Musik demonstrieren.
Die Rednex konnten über 8 Million CDs verkaufen.
Rednex Videos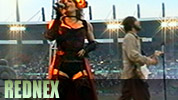 Rednex live in Düsseldorf