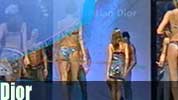 The House of Dior
Dior had presented Lingerie at the cpd, but most obviously John Galliano had not been involved in this show.
However this video received massive requests @ Real networks while Dior had not been amused at all.
.... an exclusive web62.com video with music from the XS Gang ...

.presented by SouthAsia1.com